Although listing real estate videos play an important part in your marketing strategy. Agents, photographers can actually take advantage of the power of real estate video to immerse and move buyers to purchase
2. Lighting the scene
You can go all out and invest in a basic photography lighting kit to make your real estate video look their best. Most of the rooms you'll want to feature will be well-lit on sunny days, so take advantage of nature and show your properties in their true light.
For exteriors, shoot during the "golden hour," that time just before sunrise or sunset when the sun is in the horizon and casting warmer colors. The warmer light makes exteriors more attractive.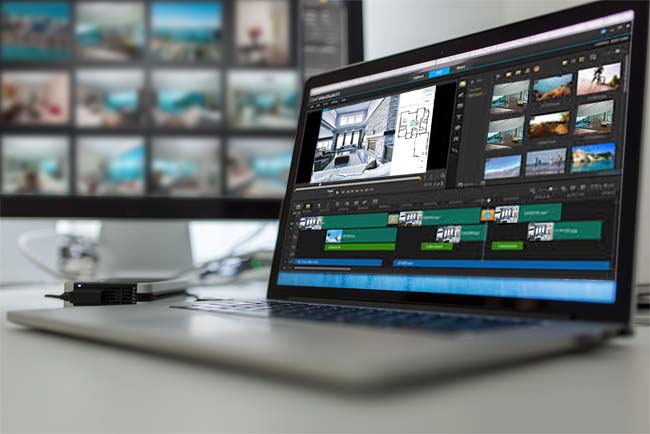 Pro tip:
Some of your interior lighting will come from tungsten bulbs, which produce a warmer color than daylight or fluorescent bulbs. When possible, replace tungsten bulbs with ones that have a color temperature of 5500K. When you keep a consistent color temperature in your scenes, it's easier for your camera to maintain its white balance.
3. Prepping the area
Before you start shooting your wonderful real estate videos, take your shot list and walk through the house. Stow away any distracting objects. If the house is unoccupied, this might be stuff like cleaning supplies, drop clothes or painting equipment. If it's still occupied, put away any clutter on kitchen bars, pick up dirty clothes on the floor, and take down family photos.
Pro tip: Don't shoot towards an open window. Your camera will struggle to balance the intense brightness of the window with the relative darkness of the interior rooms, and your images will suffer. Shoot with the camera pointing away from open windows, or cover them.
4. Shooting the video
You'll only need two to three shots per room. You're not shooting a film, so just get the best angles in the best lighting and move down the shot list.
For interior shots, get a few good tilts (up and down movements) and pans (left and right movements) of each room. If you have a tripod slider or steadicam system, also grab a few dolly shots, moving slowly from left or right. Multiple takes of the same space gives you more choices during editing.
For exteriors, you'll need two to three shots that show the front and back yards, any separate structures, and any hero shots. But, don't just piece together the whole property through multiple images. Prospective buyers want to see the entire home within the context of its surroundings, which could include the lawn, nearby structures or a body of water. Get at least two shots that show a more encompassing vantage point.
5. Storytelling
To really sell a piece of property, you have to very good at videography and connect with viewers on an emotional level. Good cinematography and editing is key, but without storytelling and music, you're just presenting moving images. Storytelling can involve following a character as they move around the home doing domestic things, as in this listing video from Savvy + Co Real Estate or this one by The Boutique Real Estate Group.